(Andy Ford is Head of Marketing Science, Australia, Facebook and Mark Henning is Executive Director, Media and Digital, Kantar Australia)
Building a brand today may be more complex than in the past, but opportunities abound for those who find the right recipe. In this collaboration, experts from Facebook and fact-based analysis firm Kantar explain why a nuanced approach to advertising is the secret sauce for marketers.
If you're a marketer looking for a foolproof strategy to solve all of your problems, here's bad news.
During a session on the art and science of branding in the digital age, research unveiled by Said Business School at the University of Oxford revealed that there simply is no no "silver bullet" to solve marketing problems.
Instead, tailor-made plans to achieve goals like awareness or intention should be the focus of marketers.
Furthermore, the need for strong creativity – sometimes overlooked in digital fields – should never be underestimated. In fact, it's an integral part of any successful campaign, regardless of the channel.
And with such a wealth of channels available, Kantar's global media manager Jane Ostler underscores the need for synergies, she said.
"We have identified three types of synergies," she explains. "First of all, the scope overlaps between the channels – thus reaching the same person. Another is the synchronous or overlapping phasing of a campaign. And the third is creative, which means the campaign is recognizable and connected across different channels. Getting it right is very important, "says Ostler.
She points out that some channels work particularly well in tandem, notably Facebook and TV, where synergies offer a disproportionate return on investment. "Understanding how the different channels work and what work they do in your campaign is essential," adds Ostler.
When it comes to the pitfalls, Ostler is warning marketers not to fall into the trap of replicating creative assets across digital channels.
"Being integrated and personalized is a very delicate balance to strike, but it's very important for the brand's return," adds Ostler.
Among the most common pitfalls identified by Kantar is the tendency of marketers to set unrealistic goals, or not to set goals. "Even though it seems pretty obvious, the frequency with which these things happen is incredible," says Ostler.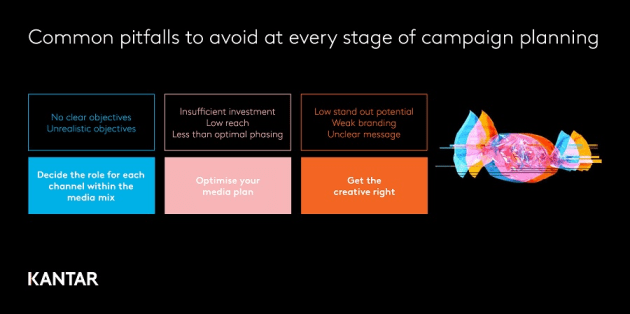 Continuing this theme, Helen Black, head of connection planning at Facebook ANZ, states that it was wrong to assume that "traditional channels make the mark and digital channels make performance."
Campaigns should be designed with specific results in mind, with nuanced planning essential to achieving a goal, she adds.
Focusing on the role of Facebook, Black recognizes that this is only part of the mix, but is particularly effective at generating multiple brand results regarding awareness, brand association. and consideration.
"With 65% of media time now devoted to digital channels in Australia1, it is imperative that brands gain visibility in these media environments, "she explains.
She also urges marketers to use her brand building framework, Brand3, as a "launching pad" for testing on Facebook platforms. "We're finding that advertisers who embrace continuous performance testing outperform their competition," says Black.
She also advised advertisers to reduce their audience costs by expanding the network. "It means using multiple locations," Black explains.
"Campaigns that use four or more locations generate twice as many returns as a single location2. And while it can be tempting to target tightly on Facebook, campaigns that have large audiences significantly outperform those with tighter targeting.
"We're also finding that campaigns that blend deeper and more immersive experiences… generate better brand returns," says Black.
And while using a variety of placements is crucial to achieving specific branding goals, it all starts with strong creativity, according to Irene Joshy, Kantar's Creative Manager for APAC and Australia.
One such conclusion, drawn from Kantar's cross-media database over the past five years, begs the question of whether brands are investing enough time and money in creative quality, she says.
"Our goal is always to develop complex systems to optimize media spend, but do we realize that the best way to optimize media is to use our creativity right? Joshy asks.
She urges marketers and agencies to think about campaigns and not assets, to entertain as well as engage and return to the age of storytelling.
It is especially important to personalize ads for specific channels. Joshy reveals Kantar's research shows 50% of TV ads will fail on digital channels, while ad personalization improves a brand's creative performance by 26%3.
Whatever the media mix adopted by marketers and their agencies, or the objectives of a campaign, each interaction has an impact and contributes to the power, or not, of a brand, according to Ryan France, Head of Brand Strategy of Kantar.
Plus, each touchpoint has a role in the middle and top end of the funnel, he says. "Sometimes we think the sales team has certain touch points at the end of the consumer's journey, and the role of those touch points is just to convert sales.
"But if the brand is the sum total of each interaction, then each experience with a brand is a brand-building experience," adds France.
Nor is a brand defined or shaped by a television commercial.
Despite the inordinate staff time and enthusiasm, television contributes on average only 7% of a brand's power.4, says France.
"Television is undoubtedly an important point of contact, but a broader vision is needed to be a brand in 2022," he explains. "I encourage everyone to get off autopilot, start with an open mind and take a fresh look at the evidence for building a brand."
Liz Harper, partner of Facebook creative agency ANZ, agrees with Joshy that the quality of branding can "make or break" a campaign's effectiveness.
She emphasizes that it is no longer possible to build brands through digital channels, but that it is essential and deserves the time, effort and know-how funneled into other elements of a campaign.
"Does it take a little more effort?" Sure. But I would say it's worth it. There is an opportunity to connect with people and build brands in a way that just isn't possible in other channels.
You can read more about Facebook and Kantar's brand-building findings here.
Sources:
1. Global Web Index, 16,270 Internet users in Australia, aged 16 to 64, Q1-Q4 2020
2 Ekimetrics, Executing for Effect, MMM meta-analysis of 16,000 campaigns, November 2020
3 Kantar, 78 ads reviewed worldwide * from the Kantar LINK database – transfer from TV to Youtube or Facebook
4 Kantar, 400,000 touchpoint assessments out of 550 Connect touchpoint studies
Do you have something to say about this? Share your perspective in the comments section below. Or if you have any news or information, drop us a line at [email protected]
Subscribe to the AdNews newsletter, like us on Facebook or follow us on Twitter to smash stories and campaigns throughout the day.